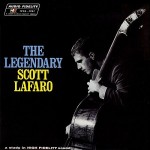 Label: Audiofidelity Enterprises
Catalog#: n.a.
Format: Vinyl, LP
Country: Japan
Released: 1978 (recorded in 1957)
Born in Irvington, New Jersey, Scott LaFaro grew up in a musical family (his father played in many big bands). His family moved to his parents' hometown of Geneva, New York when Scott was five years old. He started on piano while in elementary school, began on the bass clarinet in junior high school, changing to tenor saxophone when he entered high school. He took up the double bass at 18, in the summer before he entered college, when he learned a string instrument was required for music education majors.
He died in an automobile accident in the summer of 1961 in Flint, New York, two days after accompanying Stan Getz at the Newport Jazz Festival. His death came just ten days after recording two live albums with the Bill Evans Trio, Sunday at the Village Vanguard and Waltz for Debby, albums considered among the finest live jazz recordings. LaFaro's death took an enormous emotional toll on Bill Evans, who was, according to drummer Paul Motian, "numb with grief," "in a state of shock".